Stella & Stello Spelt Cookies With Puffed Millet 12M+ (Expiry 19-04-2024)
Spend

$50.00

to

FREE SHIPPING
The best recipes made for the little ones in respect of their well-being, to get them used to less sweet flavors from an early age.
- Cute Cookies featuring 2 characters: Stella and Stello, two cute little stars, each with different expression.
- Cookies available in various and delicious flavors, are free of refined sugars and sweetened with rice syrup and apple juice.
- Free of milk and eggs.
- Organic, Low in salt, Dairy Free, Eggs Free, Vegan
- Made in Italy

Made with spelt flour, extra virgin olive oil and made tasty by cheerful puffed millet grains. They are without butter and eggs. Breakfast will be a fun time where adults and children alike will enjoy these unique biscuits in shape and taste.

Ingredients: Spelt wheat flour* 60%, rice syrup*, extra virgin olive oil* 11%, agave syrup*, puffed millet* 2%, ammonium carbonates, sodium carbonates


May contain traces of: nuts, mustard, sesame seeds and soy.
View full details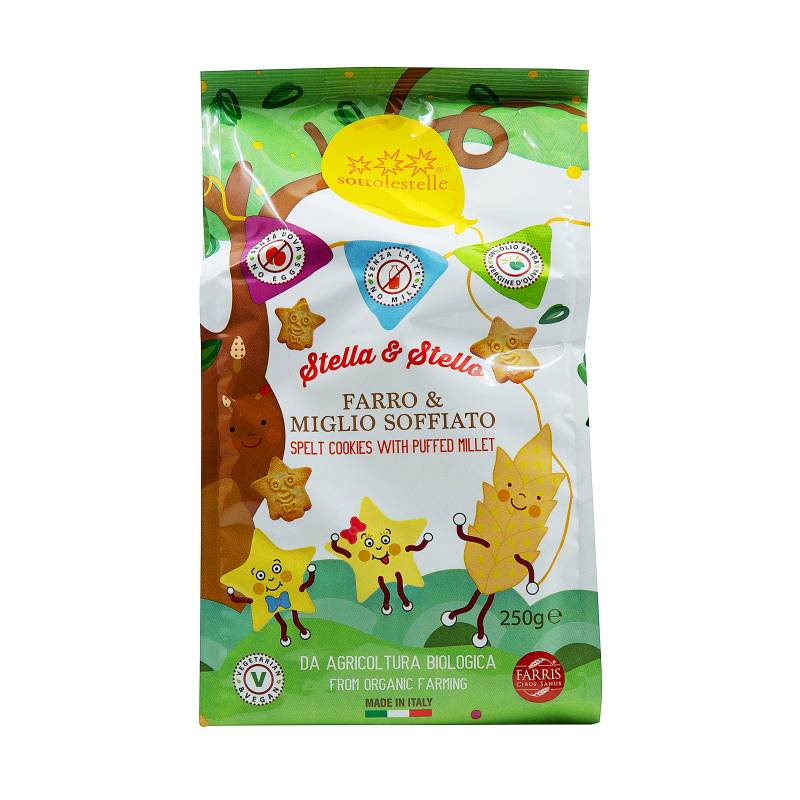 Stella & Stello Spelt Cookies With Puffed Millet 12M+ (Expiry 19-04-2024)